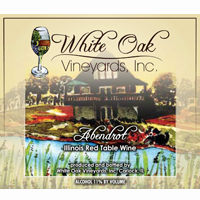 "Abendrot" Illinois Marechel Foch
2014 Maréchal Foch
White Oak Vineyards, Inc.
IL - Other
Alcohol Level: 11.00%
Size: 750ml
Total Cases:

$18.00
View other wines from this winery.
Shipping To
Special Process Shipping (12 Bottle Minimum Order)
As the busy day comes to and end and the brilliant reds of the evening sun transform the vineyards into a haven of tranquility, we invite you to sip on this lovely, lightly oaked red wine made from our estate Foch grapes. This wine makes your mouth yearn for a winter evening's meal of smoked ham or even smoked sausage served with a hearty side of potatoes and even sauerkraut! Prost!