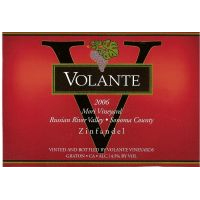 Available In
Special Process Shipping (6 Bottle Minimum Order)
The grapes for this well crafted, single vineyard Zinfandel were grown on a 3 acre cool climate vineyard near Forestville. The wine starts you off with bright aromas of raspberry and bramble. The fruit driven palate is clean and supple with pleasing berry flavors that are enhanced by great natural acidity. A delightful and lengthy finish keeps the focus on berry flavors and acidity.
Details
Total Cases: 300
Harvest Dates: October 2006
Bottling Date: January 2008
Release Date: August 2008
Average Degree Brix: 27.5
Titratable Acidity: g/L
pH at Bottling:
Alcohol Level: 14.5000%
Blend/Composition: 100% Zinfandel-100% Mori Vineyard
Fermentation: Open top
Aging: We used about 38% new oak, all of the new oak was American from Seguin Moreau
Racked:
Winemaker's Notes
Mori grapes always give us a shot at a classic wine. This wine is no exception, with 3 solid silver medals early on, this wine jumped to a gold medal and best of class at the 2009 North of the Gate Wine Competition. It is still improving, stay tuned.