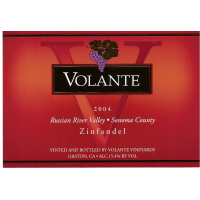 Zinfandel - Russian River Valley
2004 Zinfandel

CA - Sonoma County - Russian River Valley
Size: 750ml
$16.00
View other wines from this winery.
Shipping To
Special Process Shipping (12 Bottle Minimum Order)
This well crafted Zinfandel is ripe and intense with aromas of blackberry, coconut, and vanilla creme. The palate showcases delicious flavors of black cherry, blackberry, and plum that are rich and focused. Structured tannins modulate a pleasant and lingering finish that shows plenty of dark fruit and toasty oak.
Details
Total Cases: 675
Harvest Dates: October 2004
Bottling Date:
Release Date:
Average Degree Brix: 25.9
Titratable Acidity: 0.691 g/L
pH at Bottling:
Alcohol Level: 15.4000%
Blend/Composition:
Fermentation: open top
Aging:
Racked: