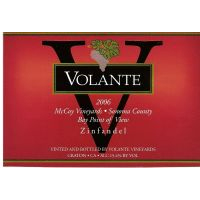 Zinfandel-Bay Point of View
2006 Zinfandel
McCoy Vineyards
CA - Sonoma County
Alcohol Level: 15.40%
Size: 750ml
Total Cases: 450

$15.00
View other wines from this winery.
Shipping To
Special Process Shipping (12 Bottle Minimum Order)
The immense character of this Zinfandel is derived from grapes grown on a rocky hillside at 1600 feet. This Zin is densely made and densely textured. It has aromas of black cherries, wild berries and cedar, along with perfumed earth and mushroom qualities. The palate is big and assertive with gobs of full bodied fruit flavors that segue into a long and pleasingly complex finish.