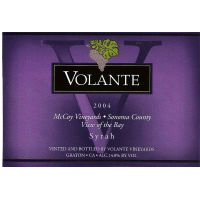 Syrah "View of the Bay"
2004 Syrah / Shiraz
McCoy Vineyards
CA - Sonoma County
Size: 750ml
$22.00
View other wines from this winery.
Shipping To
Special Process Shipping (12 Bottle Minimum Order)
This delicious Syrah starts you off with immense dark color. The aroma features a combination of spicy blackberry and spicy blueberry that segue into a mouthful of dark fruit flavors that are framed and enhanced by great acidity. Dark fruit flavors continue throughout a long finish providing a rich vibrant after taste.
Details
Total Cases: 155
Harvest Dates: October 2004
Bottling Date: January 2006
Release Date: September 2006
Average Degree Brix: 26.5
Titratable Acidity: 0.448 g/L
pH at Bottling:
Alcohol Level: 14.8000%
Blend/Composition: 95.59% Syrah-4.41 Petite Sirah
Fermentation: Open top, punch down 3 times daily
Aging: About 38% new oak made up of about 60% French from Radoux and 40% American from Seguin Moreau
Racked:
Winemaker's Notes
The first vintage from this hillside vineyard cooled by Southerly winds off San Francisco Bay and Westerly winds off the Pacific Ocean. Its a unique cool climate growing area and you can taste it this great Syrah.