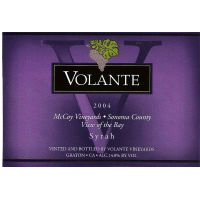 Syrah "View of the Bay"
2004 Syrah / Shiraz
McCoy Vineyards
CA - Sonoma County
Alcohol Level: 14.80%
Size: 750ml
Total Cases: 155

$22.00
View other wines from this winery.
Shipping To
Special Process Shipping (12 Bottle Minimum Order)
This delicious Syrah starts you off with immense dark color. The aroma features a combination of spicy blackberry and spicy blueberry that segue into a mouthful of dark fruit flavors that are framed and enhanced by great acidity. Dark fruit flavors continue throughout a long finish providing a rich vibrant after taste.