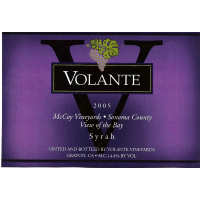 Available In
Special Process Shipping (6 Bottle Minimum Order)
At the 2009 California State Fair, this wine was selected as California's best Syrah. It wows you with its intense purple black, opaque color density. The wine shows delightful cool climate Syrah characteristics with aromas of spicy plum and dusty dark berry fruits. These flavors gain complexity on a smooth textured palate. A long, focused finish shows well defined but soft tannins.
Details
Total Cases: 425
Harvest Dates: October 2005
Bottling Date: August 2007
Release Date: June 2008
Average Degree Brix: 26.1
Titratable Acidity: g/L
pH at Bottling:
Alcohol Level: 14.4000%
Blend/Composition: 97.56 % Syrah, 2.44% Zinfandel
Fermentation: open top
Aging: 38% new oak - 60% French oak from Radoux - 40% American from Seguin Moreau
Racked:
Winemaker's Notes
This great wine comes from a hilltop vineyard at about 1600 feet. The vineyard overlooks the "Valley of the Moon" and San Francisco Bay. It also has line of sight to the Pacific Ocean near Bodega Bay. This unique site is "cool climate" with winds from the south off San Francisco Bay and winds from the West off the Pacific Ocean.