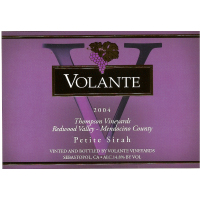 Petite Sirah - Redwood Valley
2004 Petite Sirah
Thompson Vineyards
CA - Mendocino County - Redwood Valley
Size: 750ml
$16.00
View other wines from this winery.
Shipping To
Special Process Shipping (12 Bottle Minimum Order)
This well crafted inky, intense black-purple wine has delightful forward fruit aromas of spicy blackberry, baked blackberry pie and vanillin. The palate is loaded with spicy blackberry and bright black fruit flavor. The structure is well defined but not overly tannic. Oak complexities mesh well with spice and bramble aftertastes for a warm, lingering finish.
Details
Total Cases: 450
Harvest Dates: October 2004
Bottling Date:
Release Date:
Average Degree Brix: 26.2
Titratable Acidity: 0.537 g/L
pH at Bottling:
Alcohol Level: 14.8000%
Blend/Composition: 100% Petite Sirah
Fermentation: Open top
Aging: 36% new oak; 60% American oak; 40% French oak
Racked:
Winemaker's Notes
Bud Thompson's vineyard on Mesa Drive proved to be a remarkable discovery. These were some of the best petite sirah we've ever seen and the spectacular wine has received many awards and is aging very well. This wine is 100% petite sirah and 100% Thompson vineyard.