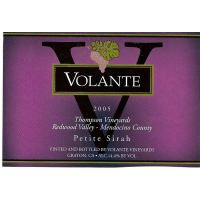 Petite Sirah
2005 Petite Sirah
Thompson Vineyards
CA - Mendocino County - Redwood Valley
Alcohol Level: 14.40%
Size: 750ml
Total Cases: 550

$12.00
View other wines from this winery.
Shipping To
Special Process Shipping (12 Bottle Minimum Order)
This ia another well crafted, dark and inky Petite Sirah from Volante. It starts with delightful aromas of spicy blackberry, baked blackberry pie and vanilla that segue into a palate loaded spicy bramble and bright black fruit flavors. Easy to like.