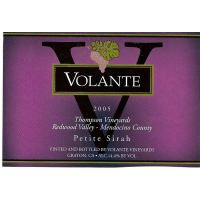 Shipping To
Special Process Shipping (12 Bottle Minimum Order)
This ia another well crafted, dark and inky Petite Sirah from Volante. It starts with delightful aromas of spicy blackberry, baked blackberry pie and vanilla that segue into a palate loaded spicy bramble and bright black fruit flavors. Easy to like.
Details
Total Cases: 550
Harvest Dates: October 2005
Bottling Date: August 2007
Release Date: June 2008
Average Degree Brix: 25.0
Titratable Acidity: g/L
pH at Bottling:
Alcohol Level: 14.4000%
Blend/Composition: 95.27% Petite Sirah, 4.73% Zinfandel
Fermentation: Open top with 3 punch downd=s daily above 10 brix and twice daily below 10 brix.
Aging: 35% new oak, of this 70% was American from Seguin Moreau and 30% French from Radoux.
Racked:
Winemaker's Notes
Inky, intense black purple, fruit driven Petite Sirah. The terrific toasty oak meshes well with soft and framed tannins. Aging well with vibrant color and a lot of fruit on the palate.