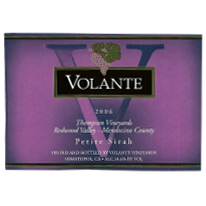 Shipping To
Special Process Shipping (12 Bottle Minimum Order)
The third in a series of smooth and rich, inky and intense, black purple Petite Sirahs from Volante. Spicy aromas of black fruit segue to a polished palate with loads of blackberry and huckleberry flavor. A pleasant finish meshes spice and bramble with oak complexities and an earthy mineral edge. The tannins are well defined but not tannic.
Details
Total Cases: 950
Harvest Dates: October 2006
Bottling Date: December 2008
Release Date: June 2009
Average Degree Brix: 26.4
Titratable Acidity: g/L
pH at Bottling:
Alcohol Level: 14.6000%
Blend/Composition: 100% Petite Sirah
Fermentation: Open top with punch downs 3 times daily over 10 brix and twice daily under 10 brix
Aging: 40% new oak, of this 80% was American oak from Seguin Moreau and 20% French oak from Radoux.
Racked:
Winemaker's Notes
This wine is developing nicely with more forward fruit than the previous two vintages. It is doing well on the award circuit with gold metals from the 2009 Orange County fair and 2013 SF Chronicle wine competition plus it is displaying excellent aging characteristics.