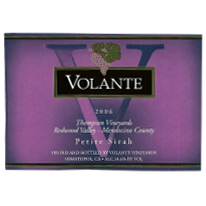 Petite Sirah
2006 Petite Sirah
Thompson Vineyards
CA - Mendocino County - Redwood Valley
Alcohol Level: 14.60%
Size: 750ml
Total Cases: 950

$16.00
View other wines from this winery.
Shipping To
Special Process Shipping (12 Bottle Minimum Order)
The third in a series of smooth and rich, inky and intense, black purple Petite Sirahs from Volante. Spicy aromas of black fruit segue to a polished palate with loads of blackberry and huckleberry flavor. A pleasant finish meshes spice and bramble with oak complexities and an earthy mineral edge. The tannins are well defined but not tannic.