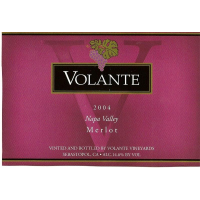 Merlot
2004 Merlot

CA - Napa Valley - Napa Valley
Size: 750ml
$16.00
View other wines from this winery.
Shipping To
Special Process Shipping (12 Bottle Minimum Order)
Supple and generous, smooth and velvety with layers of black cherry and plum fruit. The palate is rich and well defined with spicy vanilla oak adding a nice flavor dimension while soft tannins add structure. The flavors gain complexity on a lengthy finish with hints of cinnamon.
Details
Total Cases: 800
Harvest Dates: October 2004
Bottling Date: November 2006
Release Date: July 2008
Average Degree Brix: 28.0
Titratable Acidity: g/L
pH at Bottling:
Alcohol Level: 14.6000%
Blend/Composition: 82% Merlot, 18% Zinfandel
Fermentation: Open Top with punch downs twice daily.
Aging: About 49% new oak, of this 50% was French from Radoux and 50% American from Seguin Moreau
Racked:
Winemaker's Notes
Aging very well, this wine has shown considerable improvement in the last 2 years and is predicted to benefit from more maturity.