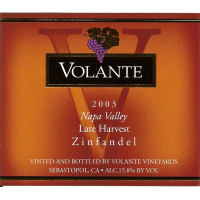 Late Harvest Zinfandel - Napa Valley
2003 Zinfandel

CA - Napa Valley - Napa Valley
Alcohol Level: 15.80%
Size: 375ml
Total Cases: 390

$12.00
View other wines from this winery.
Shipping To
Special Process Shipping (12 Bottle Minimum Order)
The grapes were left on their low yielding, dry farmed, head pruned vines as long as weather and raisin development permitted and handpicked on October 28. The resultant wine is rich and ripe with spicy blackberry, wild berry and plum scents picking up black cherry and currant on the palate. The finish combines bramble aromas and flavors with nuances of burnt wood, spice and soft tannins.