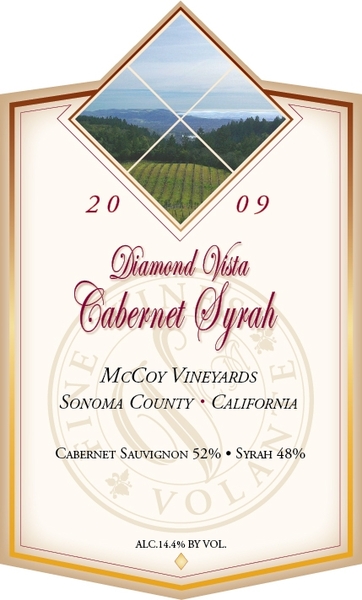 Diamond Vista Cabernet Syrah
2009 Red Blend
McCoy Vineyards
CA - Sonoma County
Alcohol Level: 14.40%
Size: 750ml
Total Cases: 425

$11.00
View other wines from this winery.
Shipping To
Special Process Shipping (12 Bottle Minimum Order)
This delightful wine is ripe, complex and expressive. It has aromas of black bing cherries, red cedar and smoke that mesh nicely with a bright plum palate. The plum flavors remain apparent through a pleasant finish that features bright acidity and soft tannins. We produced 425 cases.

This Cab. Syrah received a Silver Medal at the 2016 Orange County Fair and a Silver Medal at the 2013 SF Chronicle Wine Competition.