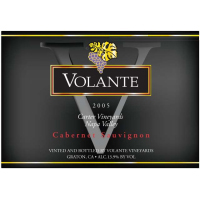 Cabernet Sauvignon - Napa Valley
2005 Cabernet Sauvignon
Carter Vineyards
CA - Napa Valley - Napa Valley
Size: 750ml
$26.00
View other wines from this winery.
Shipping To
Special Process Shipping (12 Bottle Minimum Order)
This Napa Valley Cabernet Sauvignon is smooth-textured and rich with excellent structure and balance. It features harmonious aromas of spicy currant, black fruit, cedary oak and smoke. The elegant palate shows flavors of black cherry, bramble and cedar that segue nicely into a long, focused finish with a good mix of oak complexities and supple tannins.
Details
Total Cases: 510
Harvest Dates: November 2005
Bottling Date: November 2007
Release Date: August 2008
Average Degree Brix: 24.6
Titratable Acidity: g/L
pH at Bottling:
Alcohol Level: 13.9000%
Blend/Composition: 95.03%Cab. Sauv., 4.97% Syrah
Fermentation: Open top, punc,h down 3 times daily
Aging: 38% new oak-60% French from Radoux and 40% American from Seguin Moreau
Racked:
Winemaker's Notes
A marvelous and venerable wine from beautiful, knarly, head pruned, 33 year old vines, (clone 7 on St. George) growing near the corner of Grant and Greenwood Avenues in Calistoga. Yes, it was dry farmed. A wine makers dream. Marvelous grapes, great wine and a wondrrful experience.