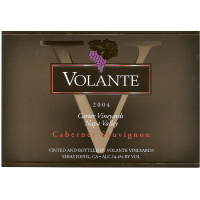 Cabernet Sauvignon - Napa Valley
2004 Cabernet Sauvignon
Carter Vineyards
CA - Napa Valley - Napa Valley
Size: 750ml
$20.00
View other wines from this winery.
Shipping To
Special Process Shipping (12 Bottle Minimum Order)
This Napa Valley Cabernet Sauvignon is smooth-textured, supple and graceful. It features harmonious aromas of cedar, tobacco and cigar box, clove, and elegant French Oak. The stylish palate shows flavors of blackcherry, cedar and Juniper berry that sugue into toasty oak, black fruit flavors, and cedar character on a well balanced finish.
Details
Total Cases: 240
Harvest Dates: September 2004
Bottling Date:
Release Date:
Average Degree Brix: 24.3
Titratable Acidity: g/L
pH at Bottling:
Alcohol Level: 14.4000%
Blend/Composition: 100% Cabernet Sauvignon
Fermentation: open top
Aging: 38% new oak - 75% French oak - 25% American oak
Racked:
Winemaker's Notes
2004 was an exceptional harvest for these 37 year old, head trained, dry farmed Cabernet Sauvignon vines.
The crop was significantly smaller this year and we benefited from the intensity and maturity this gave us. The wine is spectacular and is still improving. 100% Cabernet Sauvignon, 100% Carter vineyard.