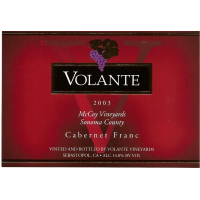 Cabernet Franc
2003 Cabernet Franc
McCoy Vineyards
CA - Sonoma County
Size: 750ml
$20.00
View other wines from this winery.
Shipping To
Special Process Shipping (12 Bottle Minimum Order)
Rich, intent and elegantly styled. Starts with floral characteristics that segue into aromas of varietal fruit and smoky pencil shavings. The palate has ripe depth with dark fruit flavor, well integrated oak, and soft tannins. The long and flavorful finish provides a burst of black cherry fruit and subtle oak complexities.
Details
Total Cases: 150
Harvest Dates: November 2003
Bottling Date: January 2006
Release Date: July 2007
Average Degree Brix: 28.1
Titratable Acidity: g/L
pH at Bottling:
Alcohol Level: 14.8000%
Blend/Composition: 87% Cabernet Franc, 12% Cabernet Sauvignon, 1% Petite Verdot
Fermentation: Open Top
Aging: About 40% new oak, of this 80% was French from Radoux and 20% american from Seguin Moreau.
Racked: