VILLA APPALACCIA WINERY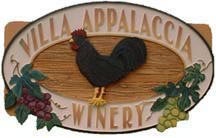 752 Rock Castle Gorge
Floyd, VA 24091
540-3580357
http://www.villaappalaccia.com
Shipping To
Special Process Shipping (12 Bottle Minimum Order)
More Information | Show
Villa Appalaccia is a 10 acre farm winery in southern Virginia specializing in growing wines from Italian grape varieties. We produced wines from Pinot Grigio, Malvasia Bianca, Vermentino, Cabernet Franc, Sangiovese, Montepulciano and Aglianico. The wines are generally dry, the production methods favors an aromatic and a fruit forward style.
Our grape growing started in 1989 and the first wines were produced in 1995. The vineyard is on shaley soil on 1600ft elevation with good frost protection both in the spring and in the fall. The winery is located on the Blue Ridge Parkway.
Winery Discount
5%

on half a case or more.

10%

on a case or more.
Promotions not available in South Dakota.