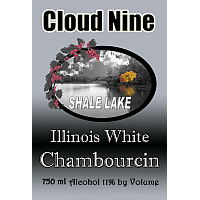 Cloud Nine
2012 Rosé

IL - Other
Size: 750ml
$15.00 ($16.00 MSRP)
View other wines from this winery.
Available In
Special Process Shipping (6 Bottle Minimum Order)
The red French-American hybrid Chambourcin grape finished in white wine style. By removing the juice from the skins before fermentation, we have produced a semi-sweet, fruity rose' wine with a pleasant nose and strawberry notes.
Details
Total Cases:
Harvest Dates:
Bottling Date:
Release Date:
Average Degree Brix:
Titratable Acidity: g/L
pH at Bottling:
Alcohol Level: 11.0000%
Blend/Composition:
Fermentation:
Aging:
Racked: