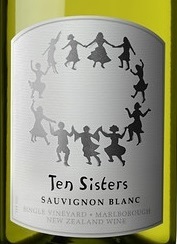 Ten Sisters Single-Vineyard Marlborough Sauvignon Blanc
2016 Sauvignon Blanc
Ten Sisters Vineyard
New Zealand - Marlborough
Size: 750ml
$16.99 ($17.99 MSRP)
View other wines from this winery.
Shipping To
Special Process Shipping (12 Bottle Minimum Order)
* 90 points from Wine Spectator
* 90 points from Wine Enthusiast
* 91 points and a gold medal at the San Francisco International Wine Competition

Ten Sisters Sauvignon Blanc has a delightfully fragrant and complex bouquet with underlying citrus aromas. The palate is crisp and lively, its elegant layers hinting of tropical fruit. The finish is long and well-balanced.

Details
Total Cases: 4000
Harvest Dates:
Bottling Date:
Release Date:
Average Degree Brix:
Titratable Acidity: g/L
pH at Bottling:
Alcohol Level: 13.0000%
Blend/Composition:
Fermentation:
Aging:
Racked: