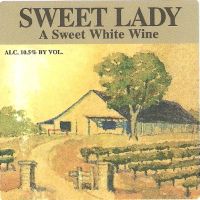 Available In
Special Process Shipping (6 Bottle Minimum Order)
Sweet Lady is one of the top selling Smoky Hill wines. It is known for it's full body tropical fruit flavors.

Pairs well with desserts, fresh fruit, citrus shrimp and quiche.
Details
Total Cases: 150
Harvest Dates: September 2009
Bottling Date: February 2010
Release Date: February 2010
Average Degree Brix:
Titratable Acidity: g/L
pH at Bottling:
Alcohol Level: 10.5000%
Blend/Composition:
Fermentation:
Aging:
Racked:
Winemaker's Notes
Sweet Lady is a nice smooth sweeter wine. It was named by Smoky Hill founder, Steve Jennings, for his wife Hanna. The characteristics of the Catawba grape come through in a strong and pleasant way. This is a special vintage, and looks to be the most popular year for this wine.