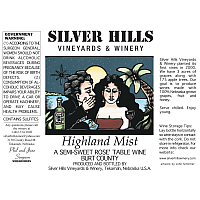 Highland Mist
2009 Rosé

NE - Other
Alcohol Level: 12.50%
Size: 750ml
Total Cases:

$9.00 ($14.00 MSRP)
View other wines from this winery.
Shipping To
Special Process Shipping (12 Bottle Minimum Order)
Semi sweet but dryer then the 2010
Blush style wine.
Nice fruit with soft acidity
Great with food. Think, grilled chicken, white pizza most lighter dishes. Serve well chilled.