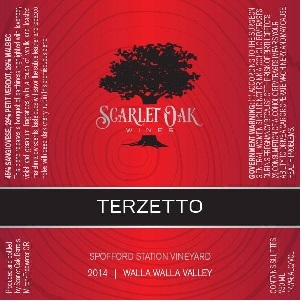 Terzetto (Red Blend)
2014 Malbec
SpofFord Station Vineyard
OR - Walla Walla Valley
Alcohol Level: 14.70%
Size: 750ml
Total Cases: 228

$15.00 ($20.00 MSRP)
View other wines from this winery.
Shipping To
Special Process Shipping (12 Bottle Minimum Order)
This blend of 45% Sangiovese, 29% Petit Verdot and 26% Malbec releases a bouquet of earthiness highlighted with Geranium fragrances with a touch of Vanilla and Toasted Marshmallow scents. Taste buds will savor the subtle leather and tobacco note with deep, dark cherry fruit in this promiscuous blend. Strong notes of dark chocolate make this a nice red worthy of a chocolate dessert and a great cigar.