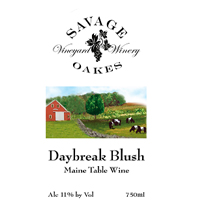 Daybreak Blush
NV Cayuga
Savage Oakes Vineyard
ME - Other
Alcohol Level: 12.00%
Size: 750ml
Total Cases:

$15.99
View other wines from this winery.
Shipping To
Special Process Shipping (12 Bottle Minimum Order)
Light and Refreshing
From our Estate grown Cayuga grapes, blended with a small amount of our own Maréchal Foch. Daybreak has subtle summer fruit flavors including strawberry and a hint of yellow raspberries. Not too sweet, making it perfect for warm weather entertaining.