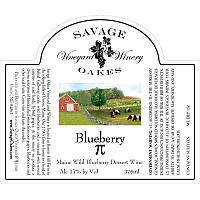 Blueberry Pi Maine Wild Blueberry Dessert Wine
NV Blueberry
Savage Oakes Vineyard and Winery
ME - Other
Alcohol Level: 17.00%
Size: 375ml
Total Cases:

$15.99
View other wines from this winery.
Shipping To
Special Process Shipping (12 Bottle Minimum Order)
100% Maine, estate grown wild blueberries.
A dessert wine made from our own hand-raked Wild Blueberries. Fermented to a higher alcohol this rich port-like wine is like the juices of a fresh blueberry pie, loaded with sweet blueberry flavor.