Rosemont Vineyards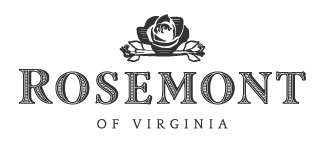 1050 Blackridge Road
La Crosse, VA 23950
434-636-9463
http://rosemontofvirginia.com/
Shipping To
Special Process Shipping (12 Bottle Minimum Order)
More Information | Show
Rosemont Vineyards is a family-owned and operated establishment located on the 450 acre Rosemont
Estate in LaCrosse, VA. The estate has been in the Rose Family since 1858 and over generations the farming operations have included vegetable farming, a peach orchard, beef cattle, dairy farming and various commodity crops.

In 2003 we continued the journey as stewards of the land with the planting of 22 acres of grapes and in 2008 we opened the doors of Rosemont of Virginia Winery. Today, we offer a full complement of quality wines ranging from classic red Bordeaux style wines to light sweet wines.
Promotions not available in South Dakota.