Naked Mountain Winery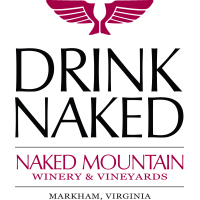 2747 LEEDS MANOR RD
MARKHAM, VA 22643-1715
(540) 364-1609
http://www.nakedmtnwinery.com
Shipping To
Special Process Shipping (12 Bottle Minimum Order)
More Information | Show
It all began over 35 years ago...but that's not where our story starts.

In February of 2010, Randy and Meagan Morgan, owners of Naked Mountain, were out for a tour of Virginia wineries as a relaxing Saturday with several of their friends - little did they know that all of that was about to change.

The first winery on the tour was Naked Mountain – and it would consume conversation that day and for weeks and months to come. While tasting, Randy commented on the high quality of the wines and the beautiful view from the tasting bar. Nikki, still part of the Naked Mountain tasting staff, replied in a manner only she could, "Well, you know it's for sale." Meagan rolled her eyes at Randy, knowing him well, and abruptly said, "Forget about it – put it out of your mind. Let's enjoy this day," but a seed had been planted.

With the support of family and friends, and well wishes from the Harpers, on August 16th 2010, Randy and Meagan became the newest stewards of a great tradition and one of the most well known wineries in Virginia.

The first vines were planted on this site in 1976 by Bob and Phoebe Harper, who were lead here by the theory, "If you can find a place peaches will grow, grapes will grow too." It started with four rows, but over the years grew to 6 acres producing over 6,000 cases annually. With Chardonnay that has been served at the White House twice (once during a State Dinner hosted by President George H. W. Bush, and again at a meeting with State Governor's held by President Bill Clinton) the Harpers built a tradition of high quality wines accompanied by spectacular views.

Continuing a tradition...
As new owners of Naked Mountain, Randy and Meagan, and the entire Naked Mountain family, look to honor the history of the winery while working tirelessly to ensure it reaches a new generation of passionate Virginia wine enthusiasts.




Winery Discount
10%

on three or more bottles.

15%

on half a case or more.

15%

on a case or more.

15%

on two or more cases.
Promotions not available in South Dakota.