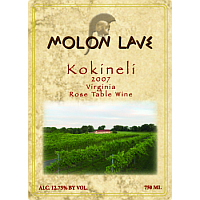 Available In
Special Process Shipping (6 Bottle Minimum Order)
Molon Lave Vineyards' 2014 Kokineli is our softer, rose version of a traditional Greek white wine called Retsina. Our 2014 Kokineli has notes of rosemary and thyme, with a pine flavor at the finish. It is recommended as a food wine, to be served chilled, and is delicious with grilled pork chops, lamb chops, grilled fish, and Greek salad!
Details
Total Cases:
Harvest Dates:
Bottling Date:
Release Date:
Average Degree Brix:
Titratable Acidity: g/L
pH at Bottling:
Alcohol Level: 12.7500%
Blend/Composition:
Fermentation:
Aging:
Racked:
Winemaker's Notes
Molon Lave Vineyards' Kokineli is our rose version of the traditional Greek wine Retsina. Retsina and Kokineli date back to the 13th century BC, and were discovered by accident- when sailors traveled back and forth between islands, they stored wines in clay amphorae, and lined the insides with pine resin to protect the wine. Today in Greece, Retsina and Kokineli are still produced, and can be quite potent in the pine flavors. Molon Lave Vineyards' 2007 Kokineli retains the traditional nose of Retsina, but the taste is a softer, more gentle version of what is found in Greece.