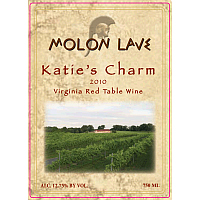 Katie's Charm
2015 Chambourcin

VA - Other
Alcohol Level: 12.75%
Size: 750ml
Total Cases:

$24.00
View other wines from this winery.
Shipping To
Special Process Shipping (12 Bottle Minimum Order)
Our 2014 Katie's Charm is made with 100% Chambourcin grape, and is fermented and aged in stainless steel. A wonderfully aromatic light red wine, with notes of strawberry and raspberry in the nose, and a floral finish. This makes for a lovely wine to sip on the patio, a picnic, or at an outdoor concert!