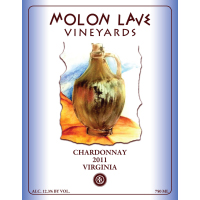 Available In
Special Process Shipping (6 Bottle Minimum Order)
Our 2013 Chardonnay is made with 100% Chardonnay grape and aged for approximately one year,in a combination of French and American oak barrels and stainless steel tanks. Delicious notes of apple and pear, with a wonderfully smooth vanilla, okay finish. The perfect wine to accompany pasta dishes or fresh seafood! This 2012 Chardonnay is Kosher for Passover.,
Details
Total Cases:
Harvest Dates:
Bottling Date:
Release Date:
Average Degree Brix:
Titratable Acidity: g/L
pH at Bottling:
Alcohol Level: 12.3000%
Blend/Composition:
Fermentation:
Aging:
Racked:
Winemaker's Notes
Molon Lave Vineyards is the only winery in Virginia to produce Kosher wines, and one of a handful of wineries along the East Coast to do so. The wines are deemed Kosher for Passover by the Orthodox Union, and this Chardonnay is Non-Mevushal.