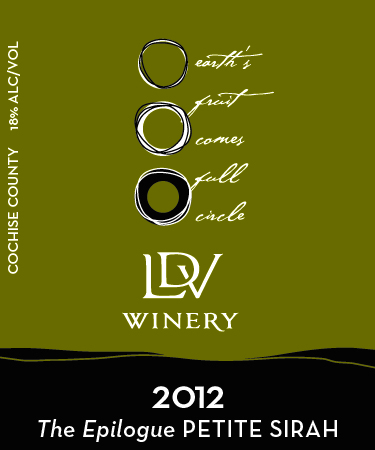 Available In
Special Process Shipping (6 Bottle Minimum Order)
2012 "The Epilogue" Petite Sirah is LDV's first dessert wine. The wine is produced with about half the residual sugar remaining as most dessert wines. It is sweet enough to serve as dessert all by itself but dry enough to not be cloying or syrupy. It is 100% estate grown Petite Sirah and aged for 40 months in tight-grained oak barrels. The wine is fortified to 18% alcohol with neutral grape spirits.
Details
Total Cases: 100
Harvest Dates: September 2012
Bottling Date: March 2016
Release Date: June 2016
Average Degree Brix: 26.8
Titratable Acidity: 0.53 g/L
pH at Bottling: 3.92
Alcohol Level: 18.0000%
Blend/Composition: 100% Petite Sirah
Fermentation: Open top, hand punch down
Aging: 50% new American Minnesota oak barrels & 50% neutral oak barrels
Racked: Every 45 days
Winemaker's Notes
The Epilogue exudes tobacco, toast, and berries in the nose that leads to a powerful rush of dark fruit on the palette. This fruit explosion is followed by a long, sweet, and savory caramel and spice note finish. Enjoy with chocolate, blueberries and cream, bleu cheese, or your favorite cigar.