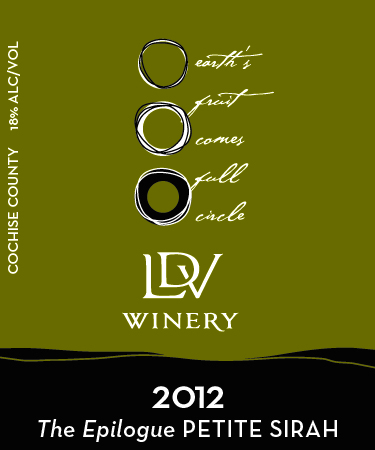 The Epilogue Petite Sirah
2012 Petite Sirah
LDV Winery Estate Vineyard
AZ - Cochise County
Alcohol Level: 18.00%
Size: 375ml
Total Cases: 100

$24.00
View other wines from this winery.
Shipping To
Special Process Shipping (12 Bottle Minimum Order)
2012 "The Epilogue" Petite Sirah is LDV's first dessert wine. The wine is produced with about half the residual sugar remaining as most dessert wines. It is sweet enough to serve as dessert all by itself but dry enough to not be cloying or syrupy. It is 100% estate grown Petite Sirah and aged for 40 months in tight-grained oak barrels. The wine is fortified to 18% alcohol with neutral grape spirits.