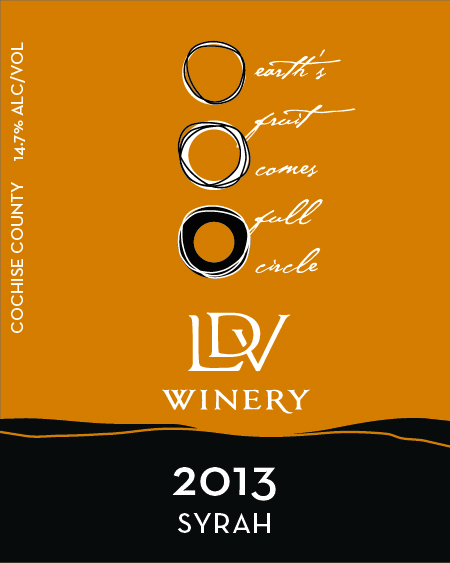 Available In
Special Process Shipping (6 Bottle Minimum Order)
2013 Syrah is LDV Winery's second vintage of estate grown Syrah. It is grown and produced at LDV Winery at 5,000-foot elevation. It is reflective of the high-mountain fruit the vineyard is producing. The Syrah grapes are loving the vineyard's volcanic soils and as the roots reach deeper into the Rhyolite granite, the LDV Syrah will continue to evolve. The 2013 Syrah is already showcasing this rich intensity.
Details
Total Cases: 170
Harvest Dates: September 2013
Bottling Date:
Release Date: June 2016
Average Degree Brix: 26.6
Titratable Acidity: 0.57 g/L
pH at Bottling: 3.9
Alcohol Level: 14.7000%
Blend/Composition: 88% Syrah, 6% Petite Sirah, 6% Grenache
Fermentation: Open top, hand punch down
Aging: 30 months in American oak
Racked: Every 45 days
Winemaker's Notes
This full-bodied wine is filled with aromas of coffee and berries that lead into a multiple layers of dark fruit on the palette. It has a decadent, soft mouth feel that is luscious and sensual. Enjoy with grilled meats.