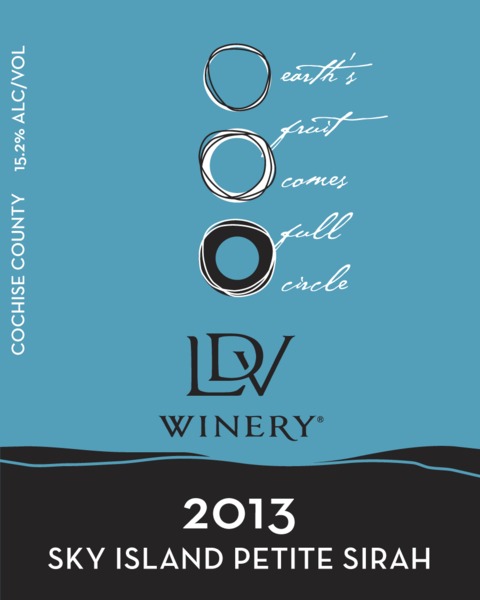 Available In
Special Process Shipping (6 Bottle Minimum Order)
This is the first Sky Island Petite Sirah we have produced since our first estate vintage of 2009. The intensity of the fruit prompted the use of more neutral barrels than usual so this unoaked version of our Petite Sirah could be produced. This is also the first time we have married some of our estate grown Syrah into one of our Petite Sirah bottlings. The extended aging time of 33 months concentrated and smoothed out the brambly fruit of 2013.
Details
Total Cases: 250
Harvest Dates: September 2013
Bottling Date:
Release Date: February 2017
Average Degree Brix: 26.1
Titratable Acidity: g/L
pH at Bottling:
Alcohol Level: 15.2000%
Blend/Composition: 83% Petite Sirah; 17% Syrah
Fermentation:
Aging: 33 months in neutral barrels
Racked: Every 45 days
Winemaker's Notes
The 2013 Sky Island Petite Sirah shows black raspberry and lilac in the nose and black and blue fruit flavors with a hint of rose petals lingering on the palate. Although the Syrah only comprises 17% of the bottling, it punches through surprisingly with some leather on the nose and black pepper on the finish. Enjoy with grilled meats, bleu cheese burgers, or just a big chunk of Parmesan cheese.