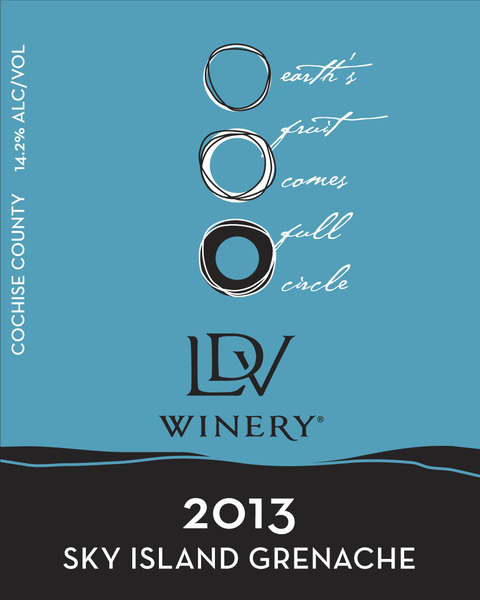 Available In
Special Process Shipping (6 Bottle Minimum Order)
The 2013 Sky Island Grenache is 100% Grenache grown at the LDV Winery vineyard. It was aged for 33 months in 100% neutral oak barrels to showcase the natural fruit flavors of the Chiricahua Mountains and was not fined or filtered. This wine is fruit forward bursting with strawberries and pomegranates on the palette, finishing with tart cherries, white pepper, and spice. Enjoy with grilled poultry, salmon, and Ahi tuna.
Details
Total Cases: 175
Harvest Dates: September 2013
Bottling Date:
Release Date: October 2016
Average Degree Brix: 24.5
Titratable Acidity: g/L
pH at Bottling:
Alcohol Level: 14.2000%
Blend/Composition: 100% Grenache
Fermentation:
Aging: 33 months in 100% neutral oak barrels
Racked: Every 45 days
Taste & Character
Acidity:
Medium
Tanins:
Low
Oak:
None
Ageability:
Medium (3-5 years)
Body:
Medium
Winemaker's Notes
Picked the Grenache grapes for this wine at two different times and sugar levels. Part of the grapes were picked at 22.9 brix to capture the tart cherries, strawberries, and bright acidity. We harvested the remaining grapes at 26.0 brix to bring the black cherries, richness, and spice to the party.