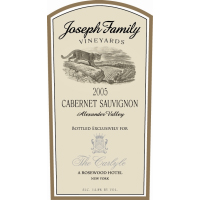 Cabernet Sauvignon
2005 Cabernet Sauvignon
Joseph Family Vineyards
CA - Sonoma County - Alexander Valley
Alcohol Level: 14.80%
Size: 750ml
Total Cases: 970

$40.00
View other wines from this winery.
Shipping To
Special Process Shipping (12 Bottle Minimum Order)
The 2005 vintage is probably our most complex yet, with multiple layers of bright, black cherry overlain with a mocha finish, the result of seamless integration of creamy sweet tannins rendered from both the fruit and toasted oak barrels.
Our vintage 2005 Cabernet was harvested the second week of October. Our notes recall that this was a lush year with lots of rain and a mild, long summer. Generally, yields that year were very high, as was quality. We intentionally, however, cropped our 12 acres to only two tons per acre. As with all our vintages, the 2005 was made in a classic Bordeaux style, with extended maceration (the juice left on the skins for over 30 days) and aged in 65% new French oak for 21 months.