Granite Heights Winery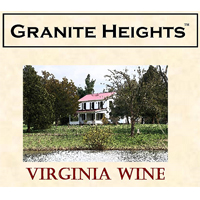 8141 Opal Road
Warrenton, VA 20186
540-349-5185
http://www.gh.wine
Shipping To
Special Process Shipping (12 Bottle Minimum Order)
More Information | Show
The wine comes first is what we believe and practice at Granite Heights winery and vineyards in Warrenton, Va. Husband & wife owners/winemakers focus on producing the highest quality wine from carefully selected vines. The tasting room is an charming 1800's farmhouse located on 168 acre farm with a relaxing view of our large pond from our front porch. Our white's and our red blends have already received excellent reviews from several wine critics, including the Washington Post (Dave McIntyre) and David Schildknecht of the Wine Advocate.
Winery Discount
5%

on half a case or more.

10%

on a case or more.
Promotions not available in South Dakota.