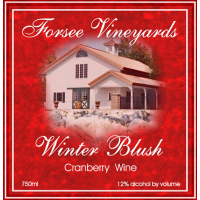 Available In
Special Process Shipping (6 Bottle Minimum Order)
This is not your lightly tinted and subtle cranberry wine. Michigan cranberry juice becomes an aromatic, cranberry-filled glass of wine with medium sweetness so it doesn't overwhelm the fruit. Great with poultry and ham but goes well with fruit and cheese (think Asiago or Formaggio) as an aperatif but what a wonderful, refreshing wine to sip on while the turkey cooks!
Details
Total Cases: 151
Harvest Dates:
Bottling Date: November 2012
Release Date: November 2012
Average Degree Brix: 25.0
Titratable Acidity: g/L
pH at Bottling: 3.42
Alcohol Level: 12.5000%
Blend/Composition: cranberry
Fermentation:
Aging:
Racked:
Winemaker's Notes
Even the aroma has a wow factor in this great addition to Forsee wines. The return of cranberry after a 2 year search for the right juice not only makes us happy but it makes many of our customers happy too!