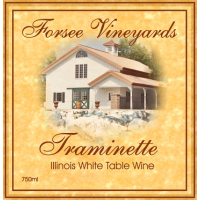 Available In
Special Process Shipping (6 Bottle Minimum Order)
Floral aromas greet you as you raise your glass, and the gewurztraminer parentage influences this soft, semi-sweet german-style wine. Perfect to sip on a hot afternoon or pair with shrimp and a spinach/mandarin orange salad!
Details
Total Cases: 200
Harvest Dates: August 2010
Bottling Date: August 2011
Release Date: October 2011
Average Degree Brix: 19.0
Titratable Acidity: g/L
pH at Bottling: 3.25
Alcohol Level: 12.0000%
Blend/Composition: Traminette
Fermentation:
Aging:
Racked:
Winemaker's Notes
Acid is important at harvest however we pay particular attention to pH, and any change in pH directly affects the level of acidity in the wine. Our wines are ready to enjoy when bottled.