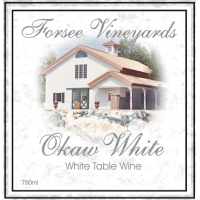 Okaw White Semi Sweet White Table Wine
2010 Vignoles
Forsee Vineyards
IL - Other
Alcohol Level: 12.00%
Size: 750ml
Total Cases: 135

$15.75
View other wines from this winery.
Shipping To
Special Process Shipping (12 Bottle Minimum Order)
Vignoles grapes offer a flavor of pears, while Chardonel grapes add a flavor component of apple, to create a wine that pairs well with pork, turkey and chicken but is immensely enjoyed on its own.
Semi-sweet, this reminds one of a riesling-style wine.