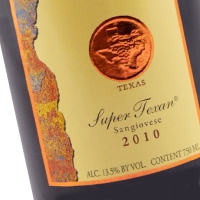 Super Texan
2010 Sangiovese

TX - Other
Size: 750ml
$19.95
View other wines from this winery.
Available In
Special Process Shipping (6 Bottle Minimum Order)
The "wine that made us famous" at Flat Creek Estate represents the 'best of Texas' in the wine category. It's even been showcased on the Today Show! Consistently a winner in wine sales and in wine awards, the 2010 vintage continues a Flat Creek Estate tradition with the majority of the grapes sourced from Flat Creek vineyards where Sangiovese, Syrah, Tempranillo and Montepulciano are all grown.

Details
Total Cases: 2100
Harvest Dates: August 2010
Bottling Date: December 2011
Release Date:
Average Degree Brix: 23.7
Titratable Acidity: g/L
pH at Bottling: 3.64
Alcohol Level: 13.7000%
Blend/Composition: 76% Sangiovese 7% Cabernet Sauvignon 6% Syrah 5% Montepulciano 3% Petite Syrah 2% Tempranillo 1% Cab Franc
Fermentation:
Aging: Barrel aged for 16 Months in a mix of French, American and Hungarian oak barrels (30% New Oak)
Racked:
Taste & Character
Acidity:
Low
Tanins:
Medium
Oak:
Medium
Ageability:
Medium (3-5 years)
Body:
Medium
Winemaker's Notes
Our Super Texan is an intense, dry, medium-bodied red wine. A subtle smokiness weaves through the aromas of bing cherry, plum and
blackberry that are highlighted by notes of warm vanilla, spice and cassis. This dark ruby colored wine opens as it breathes and is a perfect accompaniment for classic Italian dishes, smoked duck, grilled steaks and Texas BBQ. This is our signature wine and exemplifies the best that Texas has to offer.