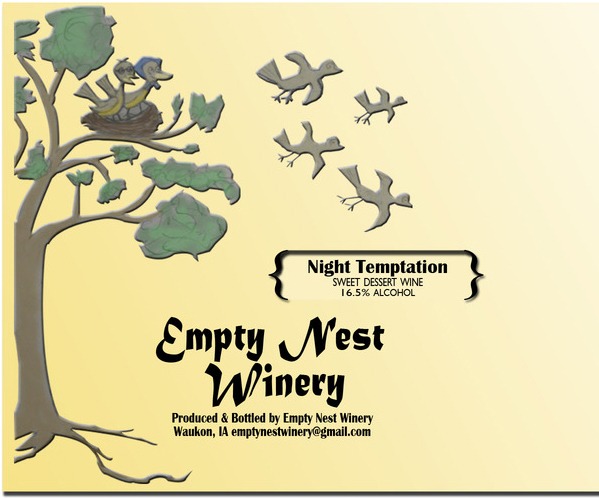 Night Temptation-coffee port or Seduction - mocha raspberry dessert
2015 Port

IA - Other
Alcohol Level: 16.50%
Size: 375ml
Total Cases:

$17.00
View other wines from this winery.
Shipping To
Special Process Shipping (12 Bottle Minimum Order)
Night Temptation is a superb way to end an amazing year here at the Empty Nest Winery. This port is perfect for those cold Midwest nights to come yet this winter. Pour a glass and curl up by the fire for an impeccable way to end any evening. Luxuriously smooth, rich and complex port wine with immense coffee undertones to awaken your senses and tempt you to pour a second glass. Enjoy either chilled or room temp, both ways have different aromas and flavors. This wine is just incredible………………..you must taste it for yourself and give a bottle to someone special, if you can part with it.
Seduction is a mocha raspberry dessert wine in a class all by itself. Both Night Temptation and Seduction are top shelf wines and are amazing to sip at the end of a great dinner or in front of the fire with someone special. They are a perfect gift for those wine lovers on your list!