Eagle City Winery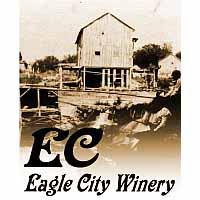 28536 160th St.
Iowa Falls, IA 50126
641 648 3669
http://eaglecitywinery.com/pages/
Available In
Special Process Shipping (6 Bottle Minimum Order)
More Information | Show
My name is Dr. Ken Groninga and my wife Carolyn and I live on an acreage near Iowa Falls, Iowa. We planted a small vineyard on our acreage in 1996, primarily French-American Hybrid grapes. In the Fall of 2000 we opened our winery, also located on our acreage. The Eagle City Winery.

It is a family owned winery operated my myself and my wife and one part time employee. At the present time we are producing and selling 16 wines, 5 fruit wines and 11 grape wines. Among the grape wines we have a carbonated wine, a port style wine and a simulated ice wine.

So far we have been awarded 64 medals in international and /or commercial wine competitions. Thus far 6 of our wines have been designated Quality Wines by the Iowa Quality Wine Consortium.

At the present time we have 55 retail outlets located primarily within a 75 mile radius of our winery although 45% of our wines are sold directly from the winery.

Our annual production and sales is about 1250 cases.

PLEASE NOTE: Eagle City Winery only schedules shipments for pickup on Mondays. This is to ensure that any packages will be delivered to you (our valued customers) as quickly as possible without being held at a freight carriers parking lot or shipping center over a weekend. Please contact us by e-mail or phone if you have any questions or concerns regarding this policy.
Winery Discount
5%

on half a case or more.

10%

on a case or more.

10%

on two or more cases.
Minimum Order Size
Eagle City Winery
has a minimum order
of
2
bottles.