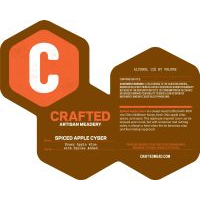 Spiced Apple Cyser
2012 Cyser

OH - Other
Alcohol Level: 12.00%
Size: 750ml
Total Cases:

$24.99
View other wines from this winery.
Shipping To
Special Process Shipping (12 Bottle Minimum Order)
Spiced Apple Cyser is a sweet mead crafted with 100% raw Ohio wildflower honey, fresh Ohio apple cider, spices, and yeast. This apple pie-inspired cyser can be enjoyed year round, but with cinnamon and nutmeg notes, is always a treat when the air becomes crisp and the holidays approach.