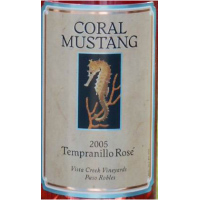 Vista Creek Tempranillo Rose'
2005 Tempranillo
Vista Creek
CA - San Luis Obispo County - Paso Robles
Alcohol Level: 13.00%
Size: 750ml
Total Cases: 350

$12.00
View other wines from this winery.
Shipping To
Special Process Shipping (12 Bottle Minimum Order)
Tasting Notes: The beautiful color of this wine is complimented with the aromas of Rose, lime, and red raspberry. Slight creaminess balanced by acidity makes this the perfect warm weather and winter holiday wine. The lingering finish is fresh with citrus and berries.
Food recommendations:
The perfect wine to go with a picnic of roasted chicken or with summertime grilling of fish, especially salmon, and chicken. This versatile wine can go from your St. Patrick's day corned beef to Memorial day picnic, to Thanksgiving turkey and ham.