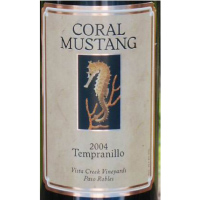 Vista Creek Tempranillo
2004 Tempranillo
Vista Creek
CA - San Luis Obispo County - Paso Robles
Size: 750ml
$24.00
View other wines from this winery.
Shipping To
Special Process Shipping (12 Bottle Minimum Order)
This wine is 100% Tempranillo from the Vista Creek Vineyard in Paso Robles. The grapes were harvested at 24.5° Brix, de-stemmed and lightly crushed. The must was then inoculated with yeast and fermented at 85° F until the right balance of tannins and fruit were attained. At near dryness the must was drained and pressed to barrels. The wine was left to finish its secondary malolactic fermentation and then racked off its gross lees.

This wine was left to age in 1-2 year old American and French oak barrels for 13 months- the time determined by tasting. The barrels were then racked to tank for the final blending. Bottled unfined and unfiltered, this wine is showing the perfect balance between oak and fruit.
Details
Total Cases: 400
Harvest Dates: September 2004
Bottling Date: March 2006
Release Date:
Average Degree Brix: 25.0
Titratable Acidity: g/L
pH at Bottling:
Alcohol Level: 14.5000%
Blend/Composition:
Fermentation:
Aging:
Racked: