Chateau Thomas Winery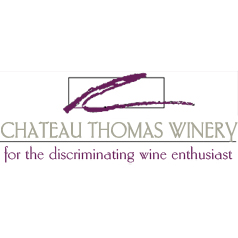 6291 CAMBRIDGE WAY
PLAINFIELD, IN 46168-7905
317-837-9463
http://www.chateauthomas.com
Shipping To
Special Process Shipping (12 Bottle Minimum Order)
More Information | Show
Chateau Thomas produces all its award-winning wines from Vinifera (old world) grapes harvested from the finest vineyards in California and Washington State and in its 25th year in business continues to strive to produce old world-style wines with careful fermentation, long oak-aging, and judicious blending.

The grapes are chilled to 34° then shipped to our winery in 1/2-ton bins by refrigerated trucks to ensure freshness within hours of being harvested. When the grapes arrive at our winery in Plainfield, Indiana, they are then crushed and the fermentation process begins, often with a cold soak.

During its history, Chateau Thomas wines have been entered in international competitions and have won over 700 medals and awards, including many Double-Gold Medals, and a Best-in-the-Nation award. Two wines voted to be of the 100 best wines east of the Rockies in 1999, and a Corning Cup for the best red wine at the International Eastern. Chateau Thomas Winery has also been awarded with four Governor's Trophies at the Indy International Wine Competition (the nation's second largest international wine competition) as the best winery in Indiana and has been awarded the Best Indiana Wine in 2008 for its CDP (Chateauneuf du-Pape blend). In 2007 & 2008, Chateau Thomas won more than twice as many Gold awards as any other of the 100+ wineries entered in the Taster's Guild International Competition in Washington, D.C. in both 2007 and 2008 (www.tastersguild.com). Our wines have been served to the President, Vice President of the U.S. and to the National Governor's Convention.

SUGAR-FREE SWEET WINES - (SLENDER WINES)

Chateau Thomas also produces the world's only naturally-sweetened sugar-free sweet wine, Slender. Slender wines are available in White (Muscat Canelli), Blush (Chenin Blanc), and Red (Rubired). These are premium, normal-alcohol table wines for those who DON'T WANT or CAN'T HAVE sugar. They are sweetened with Zerose® a no-calorie, sugar alcohol. A portion of the proceeds from this wine are donated to The American Diabetes Association.

Promotions not available in South Dakota.