Catoctin Breeze Vineyard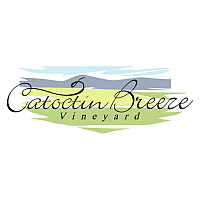 15184 Roddy Rd
Thurmont, MD 21788
240-449-0677
http://www.catoctinbreeze.com
Available In
Special Process Shipping (6 Bottle Minimum Order)
More Information | Show
Our vineyard is seated along the rolling hills of Eastern Appalachia's Catoctin Mountains. Superb soil drainage, combined with few nutrients within the limestone soil naturally forces the vine to send its roots deep into the ground in search of water, creating a stress on the vines that produces grapes of richer flavor. True to our name, the site of our vineyard enjoys a constant breeze from the Catoctin Mountains each day and night, bringing much needed relief during the summer heat and humidity.
Winery Discount
5%

on half a case or more.

10%

on a case or more.
Delivery Discount
Shipping Included
on four or more bottles.
Minimum Order Size
Catoctin Breeze Vineyard
has a minimum order
of
2
bottles.