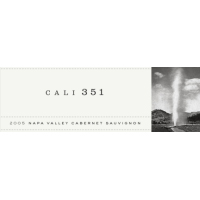 Cabernet Sauvignon Napa Valley - Library Release
2005 Cabernet Sauvignon
Terrano Napa Valley Estate Vineyard
CA - Napa Valley - Napa Valley
Size: 750ml
$100.00
View other wines from this winery.
Shipping To
Special Process Shipping (12 Bottle Minimum Order)
Dark ruby red with distinctive aromas of brandied cherries, cacao nibs, and cedar and subtle notes of cassis, anise and tobacco. The palate is rich and forward with a lush, broad density across the palate that carries to a firm and spicy finish of dark plums and roasted hazelnuts.
Details
Total Cases: 750
Harvest Dates: October 2005
Bottling Date: June 2007
Release Date: May 2008
Average Degree Brix: 25.5
Titratable Acidity: 6.5 g/L
pH at Bottling: 3.74
Alcohol Level: 14.1000%
Blend/Composition: 82% Cabernet Sauvignon - 18% Cabernet Franc
Fermentation: 22 months new/used French Oak barrels
Aging: 85% new oak - 22 months in the barrel
Racked:
Taste & Character
Winemaker's Notes
Each of our Estate vineyard blocks were harvested to small half-ton bins and fermented in small tanks and one-ton open top bins. After a three to five day cold soak, the grapes were inoculated and pumped over or punched down three times daily until near dryness, at which time they were punched down one to two times per day. At dryness, the wine was drained and pressed off the skins. We use a basket press to gently process the fermented grapes. The small lots were then aged separately for 22 months in barrels and blended four months before bottling.