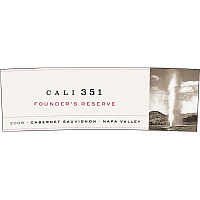 Cabernet Sauvignon Founder's Reserve
2008 Cabernet Sauvignon
Beckstoffer Historic Missouri Hopper Vineyard
CA - Napa Valley - Napa Valley
Size: 750ml
$100.00
View other wines from this winery.
Shipping To
Special Process Shipping (12 Bottle Minimum Order)
The 2008 Cabernet has a concentrated fruit nose, with alluring red and black fruit notes followed by anise, toasty oak, maple and earthiness speaking of minerality. On the palate it shows blackberry and apricot fruit, and it fleshes out with richness and supporting tannins to give the wine weight. It is drinking beautifully today after about an hour in the decanter and should improve in your cellar for the next seven to eight years.
Details
Total Cases: 415
Harvest Dates: October 2008
Bottling Date: June 2010
Release Date:
Average Degree Brix: 25.6
Titratable Acidity: 6.1 g/L
pH at Bottling: 3.65
Alcohol Level: 14.7000%
Blend/Composition:
Fermentation:
Aging: 20 months in barrels
Racked:
Winemaker's Notes
The grapes were harvested from Sam Brannan Vineyards located in Calistoga and Beckstoffer's historic Missouri Hopper Vineyard. We harvested each vineyard block to small half-ton bins and fermented in small tanks and one-ton open top bins. After a three to five day cold soak, the grapes were inoculated and pumped over or punched down three times daily until near dryness, at which time they were punched down one to two times per day. At dryness, the wine was drained and pressed off the skins. We used a basket press to gently process the fermented grapes. The small lots were then aged separately for 20 months in barrels and blended four months before bottling.