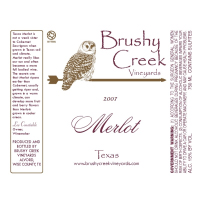 Merlot
2010 Merlot
Brushy Creek Vineyards
TX - Other
Size: 750ml
$24.99
View other wines from this winery.
Available In
Special Process Shipping (6 Bottle Minimum Order)
Merlot grown in the Texas soil and climate ripens early and develops more fruit and berry flavors than Merlot grown in cooler areas. Merlot really likes our sun and often becomes a more full bodied wine. Our Merlot is aged exclusively in French Oak.
Details
Total Cases:
Harvest Dates: August 2010
Bottling Date: June 2012
Release Date: December 2012
Average Degree Brix:
Titratable Acidity: g/L
pH at Bottling:
Alcohol Level: 13.9000%
Blend/Composition:
Fermentation:
Aging:
Racked: