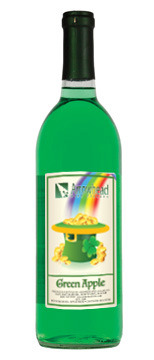 Green Apple
Apple
Various orchards throughout Pennsylvania
PA - Lake Erie
Alcohol Level: 10.00%
Size: 750ml
Total Cases:

$9.99
View other wines from this winery.
Shipping To
Special Process Shipping (12 Bottle Minimum Order)
St. Patrick's Day
If St. Patrick were here He'd say, "Forget the beer, head to Arrowhead Wine Cellars, You'll be greeted by some oh so nice fellers. It's their Green Apple Wine that makes St. Patrick's Day oh so fine!"

This is a seasonal wine that once it runs out we do not produce until the following year. Get yours now.