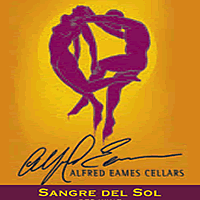 Sangre del Sol (blood of the sun)
2010 Red Blend
Whitewater Hill
CO - Other
Size: 750ml
$22.00
View other wines from this winery.
Shipping To
Special Process Shipping (12 Bottle Minimum Order)
Sangre del Sol (blood of the sun) is a blend of Cabernet Sauvignon and Merlot.

This wine is traditionally crafted from grapes grown in the high elevations of the Colorado Rocky Mountains.

It is unfined and unfiltered, fermented in open vats, and barrel aged in French oak by Alfred Eames, owner and winemaker.
Details
Total Cases: 270
Harvest Dates:
Bottling Date:
Release Date:
Average Degree Brix:
Titratable Acidity: g/L
pH at Bottling:
Alcohol Level: 15.0000%
Blend/Composition: A blend of Cabernet, Syrah, and Merlot
Fermentation: open vat
Aging: Barrel aged 16 months
Racked: